Course details
[Petit] Surprise ♪ Birthday & Anniversary Plan ⇒ 3 items + 1.5 h drinks + cake and many benefits! / 3000 yen ⇒ 2500 yen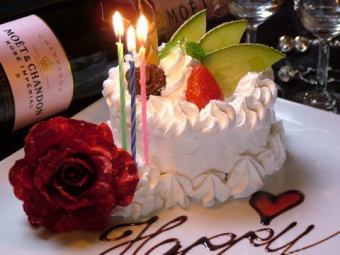 By using a coupon2500 Yen
Various private rooms available (Platinum room + 300 yen / secret room + 300 yen / VIP room 1 room 5000 yen)
All-you-can-drink available

All you can drink! More than 200 kinds! There is also a luxury option.【Option】 (+ 500 yen cocktail of freshly squeezed fruits, all-you-can-eat homemade sangria of today) (+ 500 yen Heineken all you can drink -2 ℃ freezing extra cold OK !!) (+ 1500 yen 10 countries premium craft beer all you can drink)
Reservation deadline

Until 22 o'clock on the desired date of coming to the store
Available days for reservation

Monday - Sunday - Public holidays - Holidays
To birthday as well as memorial day full of privileges full of satisfaction plan! 【Important person】 To ... ★ It is a privilege content recommended for surprise ♪ ※ For details please see the contents of the course or to the staff.
Course menu
【Birthday privilege】
◇ Number of crackers
◇ Directing with special music
◇ With name Birthday cake included
◇ Commemorative photo L version gifts
◇ Surprise planning consultation ride ♪
◆ ◇ ◆ 3 items menu ◆ ◇ ◆
◆ Three yuan pig's raw ham
◆ Smoked duck
◆ French fries
We have 3 items in total.
If you have dishes or ingredients you can not eat
Please tell at the time of reservation.
All you can drink with Heineken EXcold at + 500 yen
All-you-can-drink menu
· ● Beer menu ●
· KIRIN the most squeezed tranny raw non alcoholic beer ichi ichi ■ Via cocktail ■ Heineken at + 500 yen + 2 ℃ freeze Heineken extra cold, premium beer all you can drink all you can drink as long as such as Shandiger 's, Panache, Biamo Heat etc
· ● Shochu menu ●
- (Rock, soda, water, tea, oolong tea, hot water split Please taste your choice) ■ Potato shochu ■ - Black Kirishima, Satsuma Festival ■ Rice shochu ■ ■ Shiratake, Hitomebore ■ Wheat ■ - Niceko, Nisekido ■ Shiso ■ Tanaka Expectoration
· ● Fruit wine menu ●
· (Rock, Soda, Ginjaele split Please tell me as you like) Awesome plum wine Yuzu plum wine Liquor sake Hawthorn syrup sake
· ● wine menu ●
· Red, white wine ■ Francia from California, USA ■ Red wine cocktail ■ Kalimo City, Kitty, Nouveau Apple, Cardinal, Wine Cooler ■ White Wine Cocktail ■ Operator, Symphony, Splitzer, Kiel, White Wine Cooler
· ● Cocktail menu ●
· Cocktails in general, such as cassis orange, cassised soda, cassis oolong, banana milk, strawberry milk, cali milk, mango apple, gin tonic, moscommeur tequila sunrise, mexican cook, spumoni, regge punch, campari orange, campari soda melon ball,
· ● Soft drink menu ●
· Pepsi Cola, Gingeraire, Orange Juice, Grapefruit, Oolong Tea, Green Tea, Whitewater, White Soda, Tonic Water, Apple Juice
· ● Whiskey Menu ●
· Whiskey ■ 22 kinds of mustard, tris, white horse must-see highball red ball · raspberry ball · passion ball · coconut ball · spicy ball · citrus ball · rose ball · soltyi cassis ball · china ball · solty ball · solty lychee Ball · Peach ball
·Non-alcoholic cocktails
· Cassis Orange, Cassis Soda, Cassis Oolong, Cassis Grape, Fuzzy Negble, Regga Punch, Strawberry Milk Banana Milk, Banana Prix, Raisi Soda, China Blue, Raspberry Milk, Raspberry Soda Cinderella, Shirley Temple etc.
· 【Option】 + 500 yen premium draft beer all you can drink
· There are only 2 items in Kumamoto Minus 2 ° C - Heineken Extra Cold Premium Draft Beer Heineken
· 【Option】 + 500 yen raw fresh fruit cocktail homemade handmade sangria all you can drink
- Handmade home-made sangria raw diaphragm cassis orange diaphragm cassis grape raw diaphragm fagginen raw diaphragm mango apple raw diaphragm screwdriver raw diaphragm bulldog
· 【Option】 + 1500 yen 10 countries Craft beer All you can drink
· Corona Extra (Mexico) · Budweiser Long Neck (USA) · Guinness Stout (UK) · Coors Light · Bath Perale Yale (UK) · Moretti (Italy) · Lion Lager · Lion Stout · Sinha - Beer · Tintao Beer · Carlsberg Green · Bar Barber · Tecate · Sol
Coupons that can be used with this course
2019/01/15 update